U.S. BATTERY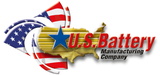 Deep cycle batteries for golf carts and utility vehicles, floor cleaning machines, aerial work platforms, scissor lifts, forklifts and marine and recreational vehicles.
world-class deep cycle batteries
U.S. Battery is the industry leader in manufacturing deep cycle batteries. The brand stands for excellent and reliable products and quality of craftsmanship. U.S. Battery's deep cycle batteries are engineered and proven to provide the fastest cycle-up to full rated capacity, and have the highest total energy delivered over the life of the battery.