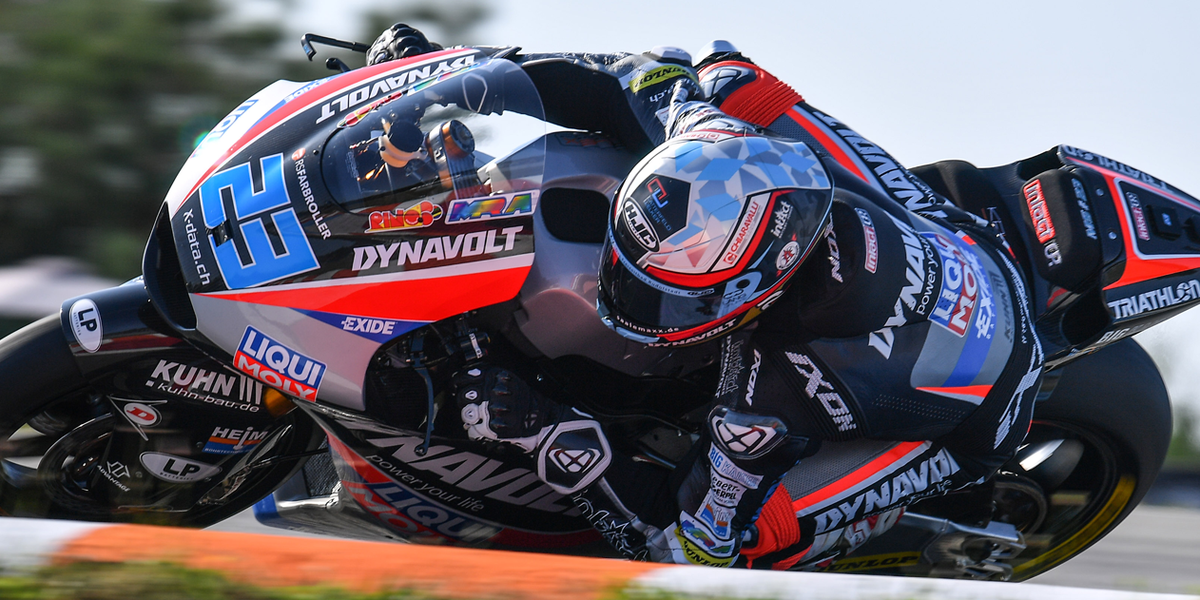 Schrötter starts into the second half of the season with sixth place & Lüthi with unfortunate crash.
In a difficult 19-laps-race in Brno the Dynavolt Intact GP rider Marcel Schrötter takes home the sixth position and improves his position in the championship by one place. The Grand Prix of Czech Republic unfortunately has been cut short for Tom Lüthi with a crash in lap four.
The sun returned to the Automotodrom Brno on Sunday after a rainy Saturday and the Moto2 Motorcycle Grand Prix of Czech Republic could get underway with pleasant temperatures around 24°C in front of more than 85.000 excited spectators.
The race of Marcel Schrötter started off promising, but constantly got more and more difficult. Already two laps after he was in third position. For six laps the 26-years-old was in sight of a podium place until slowly, but certainly Luca Marini closed up and eventually overtook him. Shortly after, the Bavarian also had to let Jorge Navarro pass.
With weakening tyres, Marcel Schrötter was not able to hold the pace and after also Enea Bastianini was not to stop, he had to settle with sixth position. At the end the Intact GP rider was able to defend his place towards Nicolo Bulega and takes home ten points from Brno. This means he improved to fifth position in the championship standings and is meanwhile only missing three points towards Top 3!
Tom Lüthi did not have the best of starting position into the tenth race of the season, after the tyre-gamble on Saturday and his 12th position on the grid. But the Swiss had a rocket-start into the race and directly stormed onto sixth position. But after an impact with his teammate he fell back to tenth position. Quite soon problems whilst braking were added. He had to push his Intact GP-Kalex bike to the limit and had to pay for it, after just three laps, in turn five with a crash.
Despite the DNF Tom Lüthi stays a direct pursuer of the championship-leader Alex Marquez, who was able to extend his lead after the win in Brno to 33 points.
Therefore it is not so bad that the MotoGP-circus moves on directly to Austria, where the next possibility to catch up to the top and to defend the lead in the team championship for the Dynavolt Intact GP squad will take place next weekend, from 9th to 11th of August, at the Red Bull Ring.
For further results and comments, visit Dynavolt Intact GP.